When sensitive documents are lost or stolen from a business or home, the consequences can be devastating: confidentiality breach, corporate espionage, or breaking and entering. These are just a few examples of what could happen if valuable information gets into the wrong hands. Despite these scary truths, most people throw away old records without thinking twice. But if you throw out documents with sensitive information without adequately destroying them, you may be putting your safety and property at risk.
There are many ways to destroy documents, but the easiest way to eliminate them is by utilizing a secure document destruction company, like us! From the moment we collect your documents, through the destruction process, and until you receive a Certificate of Destruction, a secure chain of custody remains unbroken. This makes it virtually impossible for thieves to reassemble your voided paperwork and use it in identity theft schemes, which can cost you thousands of dollars in out-of-pocket expenses. 
Let's explore some other scary outcomes of your sensitive information being exposed.
IDENTITY THEFT
According to the Federal Trade Commission, nearly 1.4 million people were victims of identity theft in 2020, more than double the number from 2019. Over 400,000 of those incidents involved misusing personal information to apply for a government document or benefit, such as employment insurance.
Identity theft is the number one fear of people who are unaware their documents are not properly disposed of. Thieves can take your personal information, such as your name, address, date of birth, and social security number, and apply for credit cards in your name or open bank accounts under your financial status. These criminals steal money from you by sending it back to their accounts or using your information to pay their bills. They can also use this information to file false tax returns and collect refunds. It may also be used to open new lines of credit or operate existing accounts, resulting in the issuance of additional credit cards, loans, mortgages, etc., all with fraudulent intent.
EXPOSING CONFIDENTIAL INFORMATION
Confidential information can become exposed without proper destruction of documents. For example, some companies simply tear off the top portion of their paper checks and place them in a recycling bin. This act alone can give hackers access to account numbers, leading to money being withdrawn from an individual's checking account.
Another issue is loose-leaf binders that may contain sensitive documents of various types. If the binder is left on a desk or in an unlocked drawer, anyone can easily open it and remove documents.
These are just two of the ways in which sensitive information can be compromised by employees, either intentionally or unintentionally. Many employees have access to sensitive customer data as part of their job responsibilities. When they leave an organization, this employee may carry a treasure trove of information that can be used for fraudulent purposes.
Some documents require special attention. A sensitive document contains information that can be used to create or perpetuate fraud, identity theft, and other crimes by those who are not permitted to handle them. These include:
Payroll
Old checks
Employee files with drivers licenses and social security cards
Customer lists
Health insurance information (past, present, and future)
Financial records such as tax returns and bank account numbers
Investment details and debt
Divorce papers or other legal documents
WAYS TO PROTECT YOUR DATA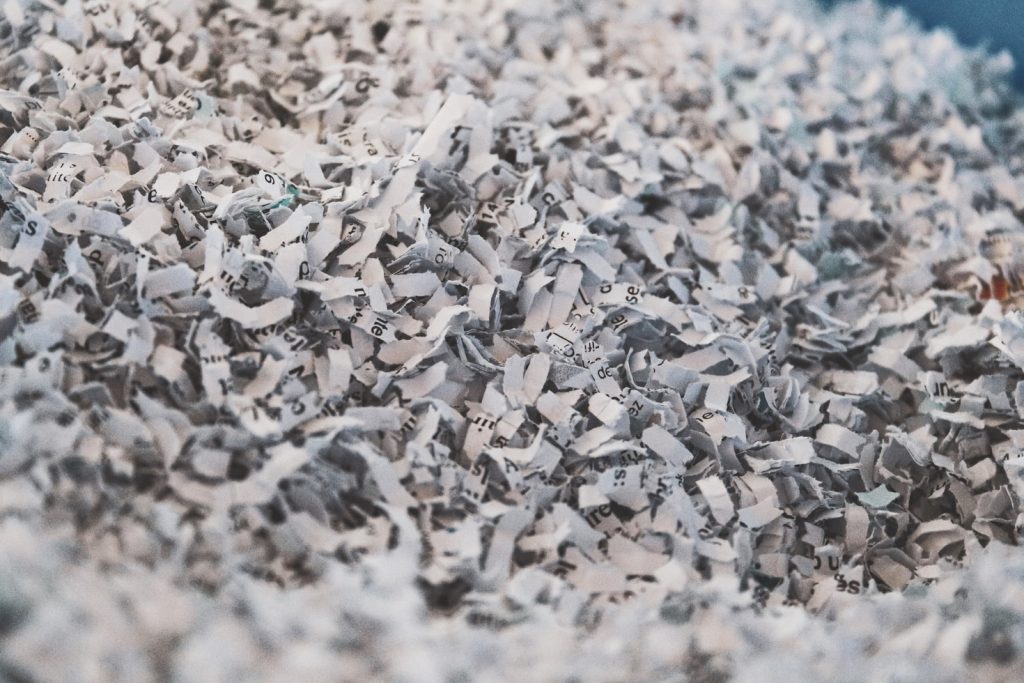 Shred old sensitive documents before you throw them away. You may be surprised to hear this, but old papers can be surprisingly useful to a cybercriminal. That's why protected shredding is required by any document destruction company. All documents will be disposed of in an environmentally friendly way and prevent any unauthorized use.
Another way to protect your data is to always ensure your passwords are strong and secure and don't leave confidential information out in the open. If you have sensitive information at the office or in other public spaces, be sure to shred it.
When in doubt about the security of your business's documents, call a reputable document destruction company such as Amplify to handle them. If you do not have an existing relationship with such a company, steps like having employees monitor personal information intake or using non-corporate email addresses can help.
Identity theft, security, and confidential information are all at risk of being compromised by document archives. Amplify ensures that your documents are securely shredded. Contact us today to learn more about our services and how Amplify can help if you have questions.