The Power of Inclusion – Celebrating International Day of People with Disabilities 
The International Day of People with Disabilities celebrated annually on December 3rd is an important event that brings together people from all walks of life to recognize and support those with disabilities. It is a day to honor the contributions and resilience of the disabled community while raising awareness about the rights, challenges, and opportunities these individuals face. 
On this day, we can help create a more inclusive and supportive environment for people with disabilities and provide them with the resources and support they need to live their best lives. It is an opportunity for us to stand in solidarity with disabled persons and show our support for their rights, needs, and well-being.
What Is Disability?
The World Health Organization defines disability as "an umbrella term, covering impairments, activity limitations, and participation restrictions" caused by physical or mental health conditions or environmental factors. In other words, a disability is any condition that limits someone's ability to perform certain activities or participate fully in daily life. While some may think of a disability only as physical limitations, such as difficulty walking or hearing loss, a disability can also refer to mental health conditions like depression or anxiety. It's important to recognize that everyone experiences disability differently, and there is no one-size-fits-all definition of what it means to be disabled.
History and Statistics
In 1992, the UN General Assembly passed a resolution establishing December 3rd as the International Day of individuals with disabilities. The day's celebration aims to increase diversity awareness and garner support for the respect, privileges, and general welfare of people with disabilities.
Today, roughly 15% of the global population is considered to have some disability, with 80% of them living in developing nations. As the worldwide population is expected to reach over eight billion, the disabled community remains one of society's most neglected and disadvantaged segments.
The Theme For 2022
This year's celebration will focus on the broad issue of entrepreneurship and transformational approaches for community growth. Ideas for discussion include:
Fostering a more inclusive and equitable future through technology.
Ensuring everyone can access employment opportunities in a rapidly changing digital world.
Reducing inequality by embracing diversity in both the public and private sectors.
● Development in employment: This conversation will cover the connections between workforce understanding and the expertise required to be recruited in a quickly evolving digital environment, along with how gadgets can improve accessibility for work opportunities and how they can be implemented in the workplace.
● Reducing inequality: This debate will address the breakthroughs, useful tools, and best practices to eliminate disparities in both government and industry, which are disability-inclusive and encourage workplace diversity to achieve the UN Sustainable Development Goals.
● Disability-inclusive development: This will address opening opportunities for disabled people in various areas. For instance, sports is one area where all factors come together, serving as an example of the best practices and a hub for creativity, development, and diversity.
Include People With Disabilities On Your Team
Having a diverse team benefits not just those living with disabilities but everyone within the organization. Including people living with disabilities on your team can foster an environment where everyone feels seen and respected for who they are. Additionally, hiring people with disabilities increases the representation within your workplace and allows others in the disabled community to see themselves reflected in their peers. Doing so can create a sense of belonging and can boost team morale. Here's how an organization can benefit from disability inclusion: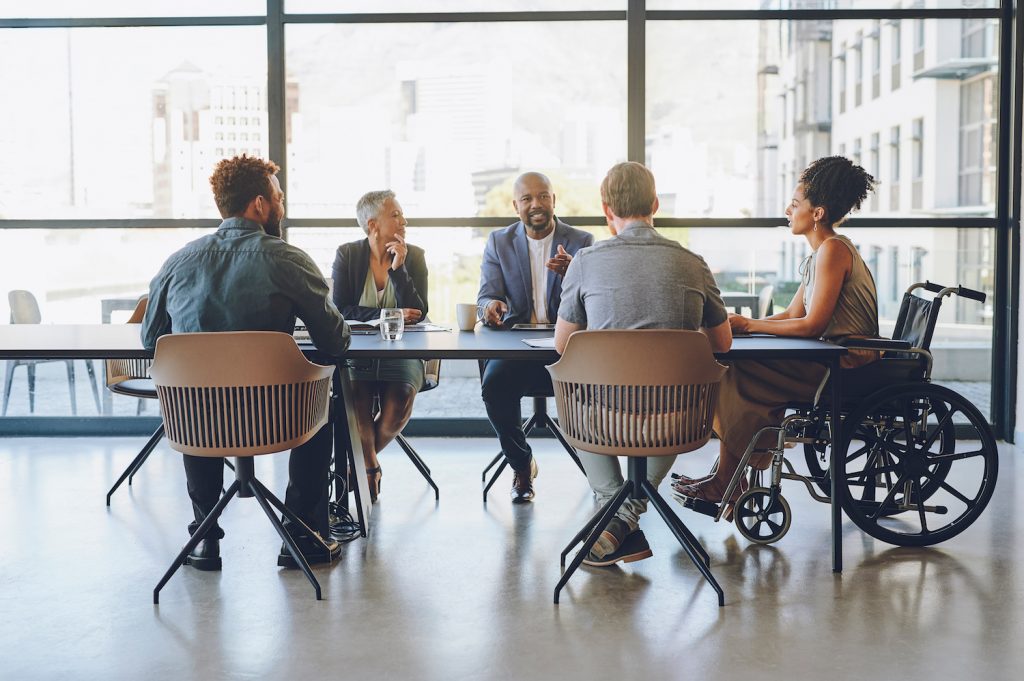 Awareness and Respect
Bringing disabled workers onto your team can increase awareness and respect for disabled persons in all aspects of society and development. By including members from the disabled community in your workforce, you can help break down the stigmas and stereotypes associated with a disability while creating an environment where everyone is respected and valued for their contributions instead of judged by their differences.
Diversity & Inclusion
Including people with disabilities as part of your team creates a more diverse and inclusive workplace where everyone feels safe to be themselves without fear or judgment. Acceptance leads to increased creativity and openness among employees, which can benefit your business in the long run.
Employee Retention
Having employees from the disabled community often results in higher employee retention rates as workers feel more connected to the company culture. When people feel accepted regardless of their differences, they are more likely to stay employed longer than if they felt unwelcome or uncomfortable due to their disability—ultimately leading to better productivity, stronger morale, and a healthier work environment.
At Amplify, we strive to be an inclusive workplace that honors everyone's strengths and celebrates individual differences. We believe a diverse workforce is essential to building a successful company. So, on this International Day of people with disabilities, let's take a moment to reflect on how important it is to include people living with disabilities in our lives and workplaces.