Product assembly is difficult for many to pull off efficiently and accurately. You want a high-quality team delivering top-notch service with affordable options with big or small jobs. Additionally, you want a team while finding solutions that best fit your company's needs. When outsourcing your product assembly, consider the following factors when assessing your options.
Outsourcing a Product Assembly Cuts Down Costs
Outsourcing product assembly occurs when businesses hire third-party companies to create the items they use or sell. The third-party business hired will either build the product partly or wholly depending on the terms of their agreement with the company they're collaborating with. When outsourcing, it's crucial for companies to consider businesses that have the appropriate equipment to create your items and help you optimize your product development process.
One of the significant advantages of outsourcing your product assembly is reducing costs. Producing your products, as you know, takes a lot of time and resources as you need to employ people and pay them accordingly for their work. By hiring people, you're raising business operations costs, which, for smaller companies, puts them at risk of financial ruin as they simply don't have the leeway to spend on several hires. Outsourcing your product assembly reduces your production costs as the business you work with employs the workers and supplements the company with those workers. As a result, you're not worrying about paying salaries or higher payroll costs.
The effect product assembly has on production costs is profound. So it helps to have a third-party come in and relieve the financial pressure by taking care of some of the critical elements for you.
Timeliness Should Be a Priority
Another critical aspect to consider when outsourcing a product assembly is timeliness. Once you start negotiating with an outside business to do the assembly, you must ask about the timeline for product assembly. After entering initial negotiations with a company, it's essential to query how long it will take the business to produce items and ship them out. The time for production and shipping will impact product delivery to clients. You want to find a company that will create items in the timeliest fashion without compromising quality.
When negotiating with product assembly partners, you'll realize that not all assembly companies are created equal. Always keep your business minds in need when assessing the potential outsourcing of your product assembly. Look past the elaborate sales presentations and evaluate their specialties to ensure that they do well with the types of services that meet your needs and requirements. If their services are simply competencies that the prospective partner mentions to try and secure a deal with you, move on to another prospective assembly partner.
Furthermore, you need to analyze whether the services that your prospective product assembly partner are fully integrated into a streamlined process at reduced costs. Not every product assembly partner has streamlined solutions to make product assembly timelier. The prospective partner must satisfy your time and productivity requirements before proceeding with them.
Outsourcing Provides More Security and Better Logistics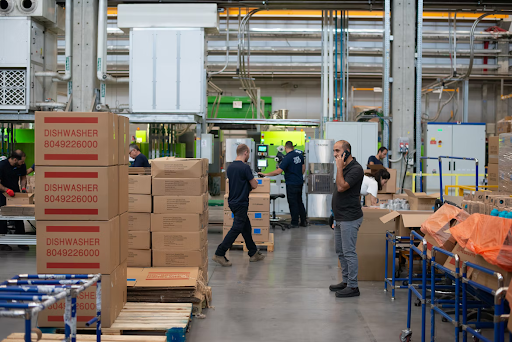 Several businesses choose to outsource their product assembly because of the security and reassurance outsourcing provides businesses. Because you're charging outside professionals responsible for coordinating all aspects of your product assembly, they have the expertise and management abilities to handle your products and ensure they are safe. Your reputation and theirs are on the line with every move. So, you must connect with a product assembly partner who respects your time and handles your products with the most care.
Outsourcing your product assembly also creates fewer logistical problems than doing the assembly yourself. Whenever a warehouse is crowded or overstocked, there could be packaging issues to navigate. Hiring a product assembly partner allows you to save more space, ensuring your products are appropriately packaged and stacked, creating a proper and more trustworthy assembly system. Product movement to and from your warehouse is more fluid through outsourcing.
By outsourcing your product assembly, you're working with an all-in-one service that handles the product assembly itself as well as subsequent testing to make sure the assembly has been done correctly. Furthermore, product assembly partners will adequately package the product to ensure its security. As a result, assembly is more stable and efficient while production time and costs are gradually reduced.
When connecting with a product assembly partner, you want a company that values quality, time, and security with every move. Amplify delivers the top-notch service you're looking for to address your assembly needs. We're delighted to work alongside you. Learn more about our assembly services today and let's get going!